Preparing for your Pet's Visit

Golden Paws Kennel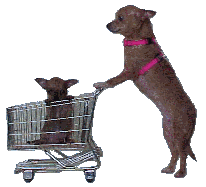 Make Your Reservations Early:
Most kennels are booked up on weekend, holidays and during vacation times. My kennel is a new kennel so at this time I'm not booked all the time BUT I must say its getting better every day so don't wait until the last minute to make your reservation, you may be disappointed. As you may make your reservations, verify those items which you should bring with you to the kennel (vaccination records, special food, medication, bedding, and toys).
Prepare Your Pet For Boarding:

Remember that pets, are like people, usually appreciate a vacation in new surroundings with new friends. Dogs, once they become familiar with their new surroundings, have a marvelous, exciting, also exciting time, almost like kids at summer camp. ( If your dog has never been boarded before, you might consider short, overnight stays at our kennel prior to an extended boarding stay to help him or her get used to boarding. Every time you return your dog is less likely to affected by "separation anxiety" and can enjoy boarding more.)
What Do I Need To Bring?
We supply most everything your Pet will need to make his/her stay a pleasant one. We have bedding, but I understand if you want to bring it from home to have your smell on it and you are welcome to do so. I also use stainless steel Buckets and Bowls, and treats . If you feel you would like to bring your own items, please feel free to do so. But please don't bring any bedding or toys stuffed with bedding because some pets will chew them and could eat it. We supply a Quality dry dog food at no additional charge. How ever most pets are sensitive to change in diet therefore it is recommended that you bring your own. Please place your pets food in an easy to store container or zip lock bag. with your pets name on it. Only bring enough food for the stay since our storage spaces are limited. Chain collars and leashes will be removed and returned to you at check-out. All pets must have leash and collar upon check-in. Please label all items you bring from home to assure you receive them back.
Check In During Business Hours:
Make sure that all vaccinations are current ( and have proof with you). We require that Pets be current on Rabies, DHLPPC an Bordetella ( kennel cough).
Don't over feed your pet right before going to the kennel. The extra food is not really necessary and the result might be an upset stomach.
Finally , because pets sense and reflect our emotions, please do not take a long time saying good by. Try to refrain from having more than one or two members of the family in the kennel Office to check-in. While it's very hard to do so, sometimes the best way is to turn leash to kennel staff, and leave . Your Pet thinks, and knows you will return for them.
Bring all agreed upon medications and your Pets food, etc. Make sure that medications list the prescription number and name of pharmacy so the kennel can obtain a refill if your return is unexpectedly delayed. Please al low enough time in the kennel office to fill out necessary paperwork. It's usually best to leave your Pet in the car until you have secured all information in the kennel office. The kennel needs to know such things as name, address, phone number, return date, additional services (bath & nails done) requested, where you can be reached in case of an emergency, the name of the local contact, your veterinarian's name and phone number, special feeding instruction (if any) , medication instruction, ext. If your pet has special problems such as fear of thunder, epilepsy, or deafness, point them out to your kennel operator.
All of this information helps your kennel to take better care of your pet, especially if there is any type of emergency requiring special action.( And this is what professional care is all about.) Anyone can feed your pet, as long as nothing goes wrong. But what you want for your pet is supervision by someone who can assess and respond properly to emergencies
Relax And Enjoy Your Trip:
Remember that you leaving your pet in the hands of people who care and love animals. Pets in the kennel probably receive more care and attention than they would at home. At least we try.
Tails are Waggin and Pets are Braggin
````````````````````````````````````````````````````````````````````````````````````````````